You can add data about banana levels in your fanon by editing this page.

Banana levels are a level type in Candy Crush Sugar Saga and Courtemanche437's Candy Crush Saga. This level type was created by L819F.
CCSS
In Candy Crush Sugar Saga, banana levels will be introduced at level 1201, in the 81st episode. After that, banana levels are not too common due to presence of many other level types.
C437CCS
The first banana level in Courtemanche437's Candy Crush Saga will be Level 1301, in the 86th episode. Only 1 to 2 banana levels appear per episode on average because of the abundance of other level types.
Objective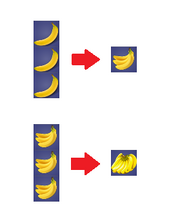 To win a Banana level, the player must collect a certain number of banana bunches in a set move/time limit. Banana bunches are formed by matching groups of bananas, which are formed by matching individual bananas. The following image demonstrates how this process works.
Bananas and groups fall ramdomly with candies, but their probability of spawning over candies is usually different. Usually it's lower, (Ex: 2 candies to 1 banana).
In some levels, bananas can be spawned by hitting barrels. The number of bananas spawned can vary from level to level. Additionally, there are also green bananas, which must be matched in order to create yellow bananas.
In many cases, individual bananas spawn more often than groups. The probability of bananas spawning correspond 75% of spawns while groups is 25%. (Ex: The probability of bananas spawning is 2 times that of candies, 1.5 of this rate will be individual bananas, while 0.5 are banana groups) However, this can also vary from level to level. Some levels do not have bananas at all, and thus require yellow candies to be matched to create them.
Trivia
Bananas, their groups and bunches work much like eggs from Farm Heroes Saga. The individual banana being like an egg, the banana group a cracked egg and finally the banana bunch being a chicken, the objective.
Gallery
Community content is available under
CC-BY-SA
unless otherwise noted.