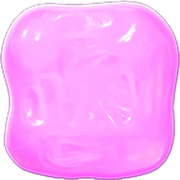 Bubblegum is a blocker in some Candy Crush fanons. They are appeared in Candy Crush Soda, so properties of them will be varied by different fanons.
Properties
Unlike in Candy Crush Soda Saga, bubblegum does not spread and it only locks if the player does not "chew" it. Make matches or special combinations to chew them.
T9CCS
In T9CCS bubblegum can spread like chocolate but encase candies like licorice locks. Bubblegum may also come out of a spawner (after episode 69).
To clear bubblegum you need to make a match over it or reach the candy above with a special candy. To clear bubblegum lock you must either match the candy or use special candies. Adjacent matches will have no effect.
Sodaworld
Bubblegum first appears at level 181 along with bubblegum levels. Its properties are same as in Soda Saga. It only appears in bubblegum levels.
Insanity
Properties are same as in Reality.
C437CCS
They act like in Candy Crush Soda Saga and T9CCS. The first level with bubblegum is Level 496, and the spawner makes an unofficial appearance at Level 523 before being formally introduced at Level 616.
CCR
Bubble gum is introduced in Level 1086. This blocker has the same properties as one in Candy Crush Soda Saga. However, unlike Soda Saga, it can appear in any level types.
Community content is available under
CC-BY-SA
unless otherwise noted.