Chocolate City is the 4th episode of Juliannese Candy Crush. This episode contains levels 36-50. This episode was released on November 16, 2013.
Winning Trophy: Mayor of Meringue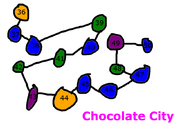 Story
Before: A taxi had no more gas to fuel in. What more, it is stuck in meringues and chocolate.
After: Tiffi gets a vacuum cleaner to scoop up all the chocolate and meringues. Then, they push the taxi to the gas station.
Levels
Level 36 - 5,000
Level 37 - Clear 27 jellies and get 40,000 points in 35 moves
Level 38 - Clear 25 jellies and get 45,000 points in 30 moves
Level 39 - Bring down 2 ingredients and score 75,000 points in 40 moves
Level 40 - Clear 47 jellies and get 70,000 points in 60 moves
Level 41 - Bring down 3 ingredients and score 35,000 points in 45 moves
Level 42 - Bring down 1 ingredient and score 25,000 points in 35 moves
Level 43 - Score 35,000 points in 45 seconds
Level 44 - 37,500
Level 45 - Clear 36 jellies and score 55,000 points in 45 moves
Level 46 - Clear 26 jellies and score 40,000 points in 40 moves
Level 47 - Clear 81 jellies and score 175,000 points in 65 moves
Level 48 - Bring down 3 ingredients and score 50,000 points in 35 moves
Level 49 - Score 20,000 points in 60 seconds
Level 50 - Clear 30 jellies and score 55,000 points in 45 moves
New Things
Two Layered Meringue is introduced at Level 36
Chocolate at Level 37