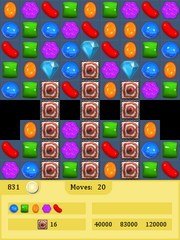 You must ask for permission to use this element in your fanon.
Jelly Diamond is a blocker in Candy Crush Jelly Saga. It appears for first time in the 57th episode, Icing Icerink. The first level in which it is featured is Level 831. This blocker was created by Hyper Mystery.
Properties
Jelly Diamonds destroy all the candies or blockers that are below it:
Regular Icing
Multilayered Icing (It destroys all layers)
Licorice Lock
Licorice Swirl
Marmalade
Chocolate
White Chocolate (It destroys all layers)
Detonator
Mint (Doesn't activate it)
Ingredients
Cereals
Cereal Tiles
Regular candies, mystery candies, candy bombs, chameleon candies, etc.
Special candies (Doesn't activate them)
Other Jelly Diamonds.
To activate it, you will have to hit it with a vertical striped candy, vertical striped mint or some combos (Colour Bomb + Colour Bomb) or through cake bomb explosions. Wrapped candies, some combos (Wrapped Candy + Wrapped Candy and Colour Bomb + Coloring Candy) destroy Jelly Diamonds. After activating it, the Jelly Diamond will fall until it reaches an empty tile, cracked tile or a "hard blocker", and then it will be destroyed.
Horizontal striped candies, horizontal striped mints and jelly fish will not activate or will destroy Jelly Diamonds. Striped Candy + Striped Candy combo and Wrapped Candy + Striped Candy can activate the Jelly Diamond if they hit it vertically.
It can't destroy chocolate spawners, cake bombs, toffee tornadoes, popcorns, sugar chests, candy frogs, ghosts, conveyor belts, portal tiles, jelly, cream and cereal blockers. If it falls on one of these "hard blockers" (except jelly, cream, cereal blockers, portal tiles and conveyor belts), the Jelly Diamond will be destroyed.
Appearances
| First Appearance | Latest Appearance |
| --- | --- |
| Level 831 | ??? |
Levels with Jelly Diamonds
17 levels have Jelly Diamonds.
Community content is available under
CC-BY-SA
unless otherwise noted.