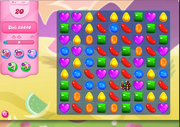 This is Level 1 of Mario's Candy Crush Saga. In this level, you have to score 3000 points in 20 moves. When you have special candies left, then you will get bonus points.
Difficulty:
The player needs to score 150 points per move
With an open board, and 120 per match, this should be straight forward.
This is a tutorial level.
Stars:
3000
5000
10000
20000 (Sugar Stars)
Strategy:
For 3 Stars the player should focus on getting special candies and detonate them. Color bombs give you the maximal point outcome.