Level 3 is the third level in CCSTR. It is a jelly level where you shall clear 30 regular jelly squares. This jelly level is nice, but a bit hard. Moves are 25.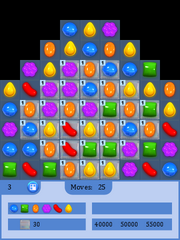 Difficulties
For being a early level in the game, some players might be annoyed at the number of jellies.
As well, some players may think moves aren't enough.
Scores
1 star: 40,000 pts
2 stars: 50,000 pts
3 stars: 55,000 pts