Level 5 is the fifth level in CCSTR. It is a target score level where you shall get 20,000 pts in 35 moves or less.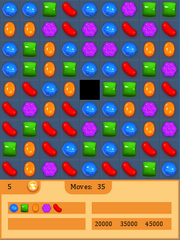 Difficulties
This level has actually no difficulties at all, but target score may be hard for some players.
Prizes
If level is complete, you are rewarded a sixpack of Lollipop hammers.
Scores
1 star: 20,000 pts
2 stars: 35,000 pts
3 stars: 45,000 pts