If your fanon uses Pancake Bombs, you can describe it here.
Pancake Bomb is a blocker in ECCCS, first appearing in Level 114. It's like a candy bomb, but with a pancake in place.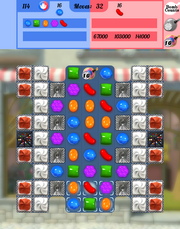 Properties
It has some properties equivalent to that of a candy bomb, as it has a countdown to its explosion, and the level ends if it explodes. However, they are indestructible, similar to ingredients. This means that they can't be removed by adjacent matches, special candy effects, or even boosters.
The only way to safely remove a pancake bomb is to make it explode on a safety tile. When a pancake explodes safely, it gives 6,000 points. If you explode it unsafely but buy a second chance, no points are awarded. Pancake bomb countdowns are independent of normal candy bombs. This means that a level can start off with 10-move candy bombs and 2-move pancake bombs on the same board.
Community content is available under
CC-BY-SA
unless otherwise noted.