Pudding Party is the 20th episode in Courtemanche437's Candy Crush Saga. It contains Levels 286 - 300 and is the final episode in World 4.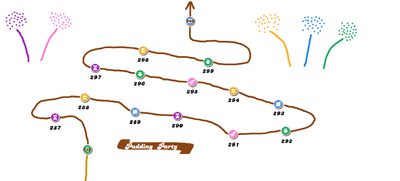 Story
Tiffi and all the other characters have a huge celebration in memory of their adventures together. 
New Things
There are no new elements in this episode. 
Levels
| | | | | | | |
| --- | --- | --- | --- | --- | --- | --- |
| Difficulty | Level | Type | Moves | Target score | Candy Colors | Goal |
| | 286 | | 40 | 90,000 | 6 | : 4   : 4 |
| | 287 | | Infinite | 15,000 | 5 | 15,000 points in 2 minutes |
| | 288 | | 32 | 16,000 | 5 | : 16,000 pts |
| | 289 | | 40 | 20,000 | 6 | : 16 |
| | 290 | | Infinite | 150,000 | 4 | 150,000 points in 30 seconds |
| | 291 | | 50 | 45,000 | 6 | : 130   : 20 |
| | 292 | | 40 | 45,000 | 6 | : 2   : 2 |
| | 293 | | 45 | 65,000 | 5 | : 12   : 26 |
| | 294 | | 58 | 40,000 | 5 | : 40,000 pts |
| | 295 | | 49 | 40,000 | 4 | : 20   : 15 |
| | 296 | | 60 | 95,000 | 5 | : 4   : 4 |
| | 297 | | Infinite | 25,000 | 5 | 25,000 points in 1 minute |
| | 298 | | 42 | 20,000 | 4 | : 20,000 pts |
| | 299 | | 50 | 45,000 | 4 | : 2   : 2 |
| | 300 | | 30 | 75,000 | 6 | : 35 |
| Very Easy | Easy | Considerably Easy | Medium | Considerably Hard | Insanely Hard |
| --- | --- | --- | --- | --- | --- |
| 5 | 3 | 3 | 1 | 2 | 1 |
Mean: 2.8
Difficulty: Somewhat Easy
Easiest Level: Level 290
Hardest Level: Level 300