Hi to everyone and welcome to another game made by HM100 and monitored by Qora Qore. In this game you have to find several differences or something different.
Instructions
You have two level images. One is Level 1000 from the Qora Fanon Super Saga and another one is Level 1000 from Bp Technologies Fanon Candies Revenge. What difference you see in these images and objectives. What Level is reasonable?
Given Images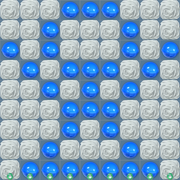 Differences
Which one is reasonable and why?
Notes
↑

Level 1K is not actually released on Super Saga but these info are for the leaked unreleased version
Design
CCR
Bp's Level 1000 has only one blocker, the regular icing and up to 10 ingredients can appear on screen. It is the level with the most ingredients required, with only 100. A mixed type with

/

combo. It has 4 only colors (




) and design of the fixed layout is Egyptian numberal.
CCHM
On the other hand, HM100's Level 1000 has more blockers. It has regular icing, Joys in both layers and swirls. It has only 3 colors (



) and some fire candies to destroy the joys. New swirls will spawn in four different colors to protect huge cascades as opposed to the previous one. New fire candies will also spawn to help the player clearing the joys and collecting the candies. The fixed layout resembles the 1 with

and K with Blue Liquorice Swirls. A | is resembled by

fire candies and red swirls. It still requires 100 ingredients but the maximum amount downgraded from 10 to 7. Still an

/

combo mixed level.
Polls
Which Level 1K is reasonable to play and why?
What do you want to change in Bp's Level 1K?
What do you want to change in HM's Level 1K upon realease?
Which Level 1K is reasonable to play if these changes are actually applied and why?
Note:You need to view both images before you start voting in these polls and no trolling when voting.
Community content is available under
CC-BY-SA
unless otherwise noted.